Torrential rains have caused severe delays in the Indian city of Mumbai on Monday, with rail, road and air traffic out of action.
A car bomb exploded in central Damascus near the premises of the Information Ministry and Justice Palace in the al-Mezzeh district on Friday.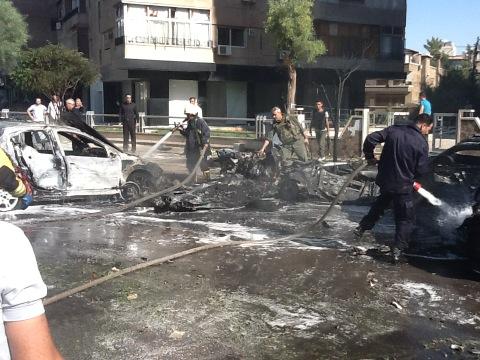 An estimated three thousand people renewed protests at Lonmin's Marikana mine, in South Africa, on Wednesday. Workers have been on strike demanding a pay rise for four weeks. Some are demanding as much as double their current salary. 
Awesome photo from our Paralympic gallery: Walking on water
Activists clashed with Bahraini regime forces in Sitra on Saturday.
Hundreds of students, staff and supporters gathered outside the Home Office on Marsham Street on Wednesday to protest the decision of the Home Office to revoke the London Metropolitan University's license to teach international students, consequently putting their stay in the UK in jeopardy. 
Dozens of people were injured on Thursday including a female officer and 60 policemen after a protest gathering thousands of Congress workers turned violent in Bhubaneshwar, the capital of the state of Odisha, eastern India.
Gold medalists Jonnie Peacock and David Weir for Team GB. 
An estimated 20,000 people protested in Hong Kong on Friday over the introduction of pro-China 'Moral and National Education' classes. 
Software giant Apple sent out invites to members of the press to attend a San Francisco-based product launch event on September 12th, where the next generation iPhone is expected to be officially unveiled. The invitation card said "It's almost here," offering no details beyond a large "5″ in the shadow.